"Just imagine a cute display of penguins, made with black olives, carrots and cream cheese! You can add scarves and hats by using fresh red pepper strips, or canned pimentos cut into different shapes. Use frilly toothpicks if you can."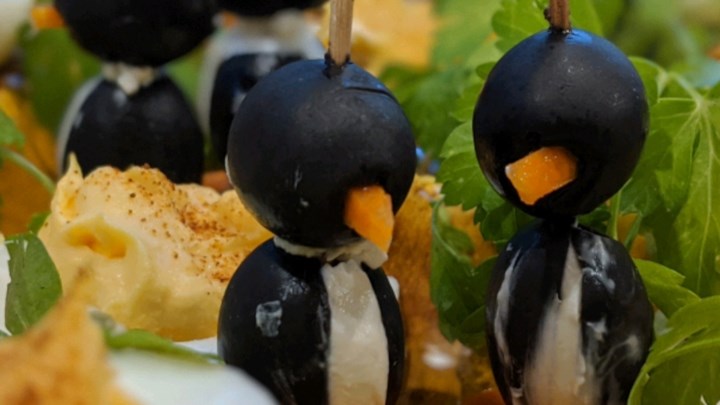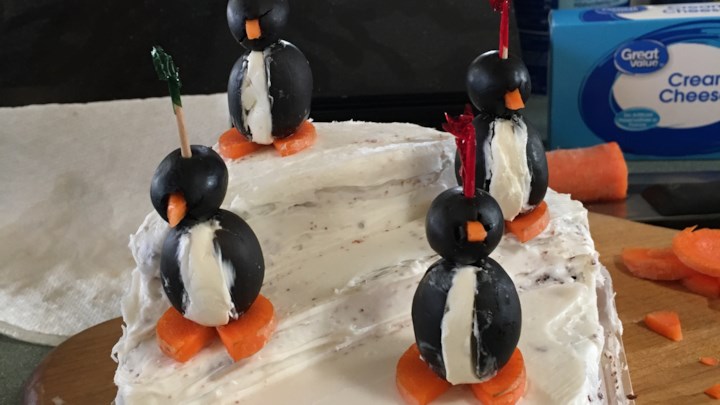 Ingredients
-18 jumbo black olives, pitted
-1 (8 ounce) package cream cheese, softened
-1 carrot
-18 small black olives
Directions
Cut a slit from top to bottom, lengthwise, into the side of each jumbo olive. Carefully insert about 1 teaspoon of cream cheese into each olive. Slice the carrot into eighteen 1/4 inch thick rounds; cut a small notch out of each carrot slice to form feet. Save the cut out piece and press into center of small olive to form the beak. If necessary cut a small slit into each olive before inserting the beak.

Set a big olive, large hole side down, onto a carrot slice. Then, set a small olive onto the large olive, adjusting so that the beak, cream cheese chest and notch in the carrot slice line up. Secure with a toothpick.
Nutritional Information
Cream Cheese Penguins
Servings Per Recipe: 18
Amount Per Serving
Calories:
 57
% Daily Value *
Saturated Fat: 
Total Carbohydrates: 
< 1 %
Sugars: 
Vitamin A: 
Vitamin C: 
Calcium: 
Iron: 
Thiamin: 
Niacin: 
Vitamin B6: 
Magnesium: 
Folate: 
*
Percent Daily Values are based on a 2,000 calorie diet. Your daily values may be higher or lower depending on your calorie needs.
**
Nutrient information is not available for all ingredients. Amount is based on available nutrient data.
(-)
Information is not currently available for this nutrient. If you are following a medically restrictive diet, please consult your doctor or registered dietitian before preparing this recipe for personal consumption.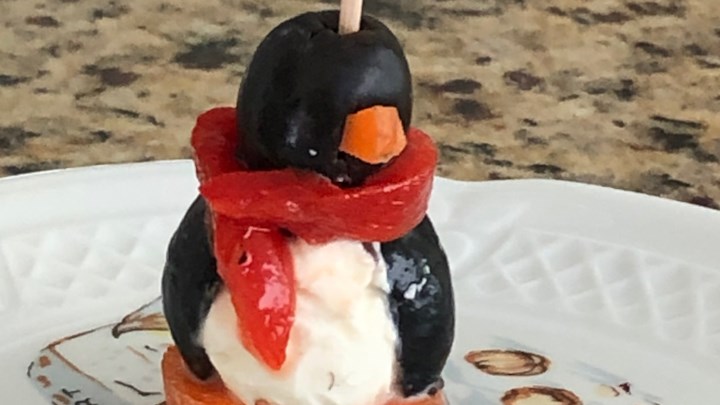 source : allrecipes.com